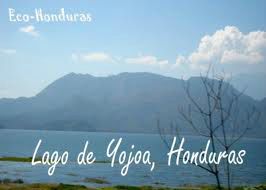 Lago de Yojoa (Lake Yojoa)


Halfway between Tegucigalpa and San Pedro Sula, on the main north/south highway that connects the Golfo de Fonseca (Pacific Ocean) to Puerto Cortes (Atlantic Ocean), is Lake Yojoa. You can't miss it.


The lake is comparable to Lake Tahoe in California. On the lake side of the road there are at least 50 small restaurants that will serve you fresh bass right out of the lake for about $8, and is normally served with coleslaw and tortillas.


There are many nice hotels and restaurants in the Lake Yojoa area. Due to its proximity, you may also find a place to stay and/or dine in Comayagua or Siguatepeque. There is also a nice swimming area about one mile south, called Playa de las Marias.
Six miles on the south end of the lake you will see the entrance to Cuevas de Taulabe (underground caves). To the north, near Santa Rita, about thirty minutes from Lake Yojoa, turn off west towards Rio Lindo, and you will find the Pulhapenzak Waterfalls.


There is much evidence that the Lake Yojoa area was once inhabited by the Mayan Indians, some of which can be observed at a small island in the lake, as well as at Pullhapenzak Waterfalls, where you can visit a Mayan ceremonial center.

Lake Yojoa is the largest lake in Honduras with a surface area of 285 square kilometers (110 mi²) and an average depth of 15 meters (50 ft). At an altitude of 700 meters (2,300 ft), it lies in a depression formed by volcanoes. The Lake Yojoa volcanic field consists of Pleistocene to Holocene scoria cones, craters, and lava flows.


The west side of the lake is bordered by steep mountains and Santa Bárbara National Park while the east side is adjacent to Cerro Azul Meambar National Park. The lake is situated on the highway that connects the two largest Honduran cities, Tegucigalpa and San Pedro Sula.




For many people traveling between the cities, the lake serves as a rest area where they can appreciate the view and enjoy the fresh fried fish and other foods that are offered by the restaurants located on its banks.
Lake Yojoa is a popular fishing destination and the surrounding area has a rich biodiversity--almost 400 species of birds and 800 plant species have been identified in the region.

However, it also is threatened by deforestation, cattle ranching, and development. The settlers of the communities around the lake are dedicated to the cultivation of fruits, vegetables and basic grains.