Jor
ge Restrepo
restrepo@alumni.ksg.had.edu

tel: (504) 776-6019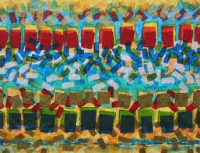 Studied Drawing and painting at the academy of art, Jesuit School in Medellin, Colombia, Jorge has had six individual exhibits at Honduras, Dominican Republic, and El Salvador.




Nine Collective exhibits in France United Kingdom, United State, Honduras, Col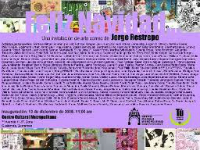 ombia, and Brazil. His paintings are collected in different countries.





You can contact Jorge Restrepo in Honduras, and visit his studio by appointment. Jorge lives at 30 minutes from Tegucigalpa. By commission his painting could be get at Copan Ruins and Roatan



=====================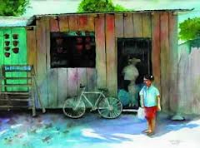 Laura's
Quiroz main source of inspiration comes from scenes in Honduras, where she lives.






Her works are done with watercolors, a technique she has learned and perfected over the years.


She attended an intensive course at the Jose Cecilio del Valle University with the American renowned artist Rose Edin, as well as a variety of other workshops in el Salvador and Honduras.



She has part
icipated in three different collective expositions: "Signs and Beauty" (2004); "Our land and its People" (2005) and in the "IV Festival of Honduran Painters".




Laura currently lives in Tegucigalpa with her family, and can be contacted at telephone 930-3838



========================





Jos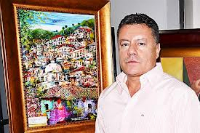 e Francisco Pinto Rodezno has an outstanding ability to reflect different facets of everyday life in a colonial city like Tegucigalpa. His work depicts parks, church towers and narrow streets, where people learn to live, love and die.





The artist developed his love and interest in drawing and painting as a young boy, and after graduating as a Bachelor in Foreign Languages from the National Autonomous Universit
y of Honduras 1987, he chose to dedicate his time as a professional painter.






Pinto Rodezno has held many different exhibitions, both on a national and international level, amongst the most important ones we can mention Expo Barcelona in 2001; in 2003 he participated in a collective exhibit in the Americas Ballroom at the Organization of American States in Washington D.C.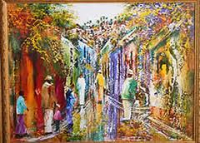 In 2005, he held an exhibit at the Museum of Seoul in South Korea and another in New York City. In May, 2006, he participated in an exhibition in the Province of Holguin, in Cuba.




He has received many awards, including a second place in the international contest of painters organized by the Italian – Australian Academy in Melbourne, Australia in 2004. Closer to home, he was distinguished as painter of the year in
2004 by the Premios Extra TV in Tegucigalpa.



The XII Floral Games, celebrated in his home town of San Marcos de Ocotepeque were dedicated to him in 2001